Welcome to the Franklin Inn Mexican Restaurant

---
Today's Special Features
Our food is house made from the best ingredients. These items are available while supplies last. This may not be up to date.

---
**Please note: Due to many factors the price on the printed menu may not be accurate.
Please visit this link for the current price of menu items.

---
Chef's Specials:
Unique & delicious meals you won't get anywhere else.

Need a gift? Franklin Inn Gift Cards and Tumblers are now available.
Salsa of the Day: Roasted Red Pepper Pistachio
Soup of the Day: Potato Pepper

Chef's Feature: Mega Burrito Christmas.0
Your stomach will be Merry with our latest Mega Burrito...the Christmas edition. This Mega burrito is our biggest yet featuring Chicken Tinga, rice, black beans, cheddar jack cheese, lettuce and tomatoes. Topped with a trio of creams: lemon crema, roasted red pepper crema and avocado crema. All this goodness is stuffed into a 14" flour tortilla. Chicken Tinga is made from shredded chicken cooked with bell peppers, jalapenos, onions, tomatoes and chipotle peppers. This popular sauce originated in Puebla, Mexico and is served throughout Mexico.You will probably not finish it. Be prepared for left overs for lunch tomorrow.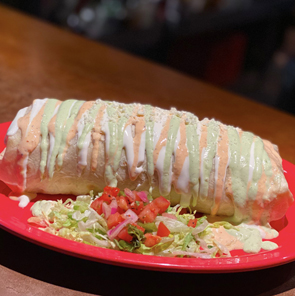 Vegan "Chorizo" Street Tacos
Grilled white corn tortillas, Vegan chorizo, tomatillo salsa, cabbage, jalapeno, cilantro, jalapeños, onions, cabbage, lime wedge and two vegan sides.
Jalapeno and Cheese Tamale
This will be ready after 6pm today. Hand rolled. Masa dough & filling featuring Monterrey Jack cheese and jalapeño strips steamed in corn husks. Served with green salsa of dipping. Don't eat the husk!
Sugar and Spice Margarita
Featuring Megan's house made Mexican Horchata, Orendain 100% Blue Agave Blanco Tequila, and a sugar cinnamon rim.
$2 off the following IPA Bottles:
Southern Tier 2xIPA, Bell's Two Hearted Ale, and Impending Doom West Coast Style IPA.


---
For updates: email list or visit our blog or Face Book Page.

Kitchen Hours: Monday - Thursday 4pm to 9:30pm.
Friday and Saturday - 4pm to 10pm
Happy Hour 4pm to 5:30pm Monday thru Friday

Table Time Limits of 1.30 to 2 Hours Depending on Party Size.
We can not easily accommodate large groups. Large parties will have a longer than normal wait on busy nights.