Welcome to the Franklin Inn Mexican Restaurant

---
Today's Special Features
Our food is house made from the best ingredients. These items are available while supplies last. This may not be up to date.
Visit our online menu for most up to date information.
---
Due to skyrocketing avocado prices, there is a temporary price increase on some dishes that involve guacamole. The price in the printed menu may not be accurate at this time. Please visit this link for the current price of menu items.

---
Chef's Specials:
Unique & delicious meals you won't get anywhere else.
We're hiring dish washers. Ask your server for an application.
It's Boba Season. Enjoy a drink bursting with sweetness:
Pineapple Strawberry Boba Margarita
(must be 21 for the marg)
Boba Strawberry Lemonade
Boba Strawberry Ice Tea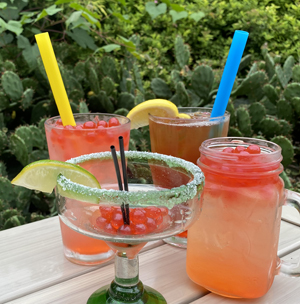 Salsa of the Week:
Pineapple Banana Pepper
Caesar Salad with Grilled Chicken
First created in Tijuana, Mexico, our version features Sue Cibula's Caesar dressing recipe, Philip's house made brioche crotons, Mexi-rub dusted grilled chicken, Pico de gallo and imported shaved Parmesan cheese. Served with a flour tortilla.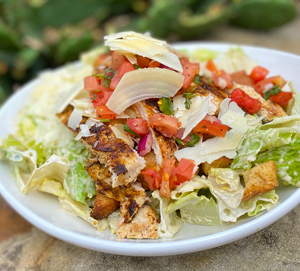 Grilled Mexican Pizza
Grilled Cauliflower crust (gluten free), chipotle tomato sauce, pepper jack cheese, house chorizo, shredded lettuce, pico de gallo, queso fresco, lime creams. Enjoy as a meal or share as an appetizer.


Featured Drinks of the Month:
Peach Margarita, Feisty Peach Margarita (we add habanero infused tequila) or Pineapple Strawberry Boba Margarita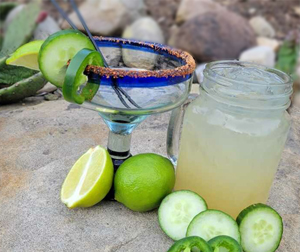 John's Homemade Ice Cream:
Butter Pecan or Dairy free Raspberry

---
For updates: email list or visit our blog or Face Book Page.

Kitchen Hours: Monday - Thursday 4pm to 9:30pm.
Friday and Saturday - 4pm to 10pm
Happy Hour 4pm to 5:30pm Monday thru Friday

Table Time Limits of 1.30 to 2 Hours Depending on Party Size.
We can not easily accommodate large groups. Large parties will have a longer than normal wait on busy nights.